Hostels: the nightly home of the backpacker. They can range from dirty shitholes seemingly built on top of an anthill to damn-near 3-star hotels. I'm at my fourth hostel of my trip and have already seen quite a range. I'll tell you a bit about each of them, and future homes, as I remember.
Nomads Fat Camel, Auckland
The Fat Camel is a popular spot for folks' first nights in New Zealand. It's convenient to public transportation and the city center.
Pros: Good location in downtown Auckland; free (small) dinner; bar is a good place to meet other backpackers
Cons: Needs to be refurbished quite a bit: new paint, mattresses, etc.; mattresses are just thin foam sheets; seedy part of town ("massage" parlor right next door)
Web site
Saltwater Lodge, Paihia, Bay of Islands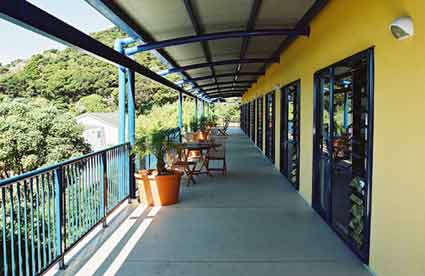 Saltwater Lodge opened in 2001. It's just a block from the beach and is in great condition.
Pros: Good character; very clean; great kitchen and community room; very helpful desk staff
Cons: Some guests opt to enjoy the large movie collection too much.
Web site
I'll profile more soon.
First, a poll. Should I:
A- Get a job somewhere on the north island for a couple weeks before heading south. I have a couple opportunities to work on farms.
B- Head south now to Wellington and then the south island for some awesome scenery and maybe some skiing.
Leave a comment and let me know what you think